Our faculty is deeply convinced about the basic teachings of the Christian faith. We stand in the mainstream of a long tradition that, for us, too, works well at explaining the world and helping us negotiate it in a way that brings life, light, joy, harmony, and productivity.
Trinity College Queensland welcomes—and encourages—searching questions about the Christian faith. The faculty are not interested in creating clones of themselves, but rather in equipping students and candidates for ministry with a toolbox for critical thinking and missional action, and with the skills to provide pastoral care for navigating complex theological issues.
In order to effectively engage the skepticism that is so rampant (and sometimes warranted) in Aussie society, Trinity seeks to ensure that our students understand not only the truth of the biblical story, but also the reasons people have for their doubts. Therefore, in our classes, we aim to illuminate not only the substance of historic, orthodox Christianity, but also the obstacles that stand between unbelief and a life-giving faith in the person of Jesus.
Trinity College Queensland is a theological institution of the Uniting Church in Australia, a movement within the Reformed and Evangelical tradition. The College's values, mission, and ethos are governed by the vision set out in the Basis of Union.
We deliver undergraduate and postgraduate courses in partnership with the Australian College of Theology.
Inquiry Based Learning
At Trinity, we've adjusted our approach to education so that you can get the most out of your learning. Trinity Principal Paul Jones walks us through Inquiry Based Learning, and how it improves your learning experience at Trinity College Queensland.
If you want to explore more of what Trinity has to offer you, email ask@trinity.qld.com.au or call 07 3377 9950.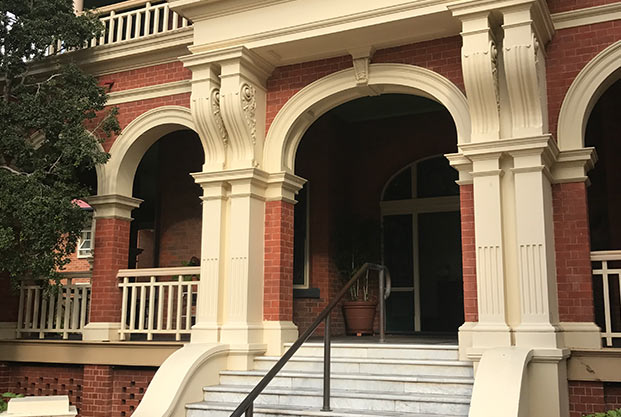 Campus
Our college is easy to reach by public transport. We're within a stone's throw of Auchenflower train station, and less than 15 minutes' walk to public bus stops and the Regatta Ferry terminal. Alternatively, it's not difficult to find parking in the surrounding streets.
The College is part of a larger campus that accommodates Raymont Residential College, a university residential college that's home to 120 students. Raymont Residential College welcomes applications for residency from students who study at Trinity College Queensland. Also on the campus you'll find a cafeteria, swimming pool, and the architecturally pleasing Drysllwyn House, a heritage listed building constructed around 1904-05.
Trinity Theological Library
Trinity provides access to one of Queensland's best resourced theological library. Our library maintains a theological collection of over 27 thousand titles. It is open to the public 9am–5pm Monday–Friday, with extended opening hours for students.